These best selling batteries are perfect for Kayak utilities such as Fish Finders/GPS, Lights, Cell Phone Charging etc. The compact and IP67 Waterproof design of these little powerhouses conveniently stow into most Kayak hatches and weigh much less.
FPV-Power's High Quality High Density Li-Ion Cells provide you with smaller and lighter battery packs.
All FPV-Power Lithium Ion Batteries are protected by FPV-Power's powerful and efficient Battery Management System.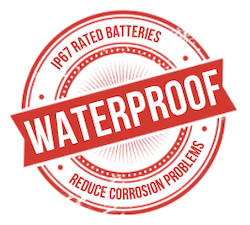 The Lithium Kayak Battery refines the kayak battery beyond the heavy and cumbersome marine batteries of the past. This lightweight and IP67 water proof Lithium Battery not only excels in form but in function as well with multiple output options, superior efficiency, power and amp hours. The compact design conveniently stows in most kayak hatches.
The FPV-POWER 17.5 Ah waterproof kayak battery suits fisherman who run larger fish finders /GPS which typically draw more than 1A. If drawing 1A, you can expect around 17 hours of use, but you may need a voltage regulator as some fish finders need a minimum of 11V to run. The FPV Kayak Battery can be run in parallel to increase your battery capacity. The FPV Battery is rated at IP67 which means it can be submerged to 3ft for up to 30 minutes.